What is a Internet of Things (IoT) Platform?
Internet of Things platform or IoT platform in short is a central hub for your internet-connected devices. IoT platform is the key to the development of IoT application or services to connect the things with real-world, services and people.
Following are the main components of an IoT Platform:-
Device Management
Device Connectivity and Protocols
Secure Access Management
Data processing and Action management
Data Visualization
Data Storage
Connect with third-party services
A lot of IoT Platforms are out there but here we will discuss few of them which are on the top of the list. Each of them has there own use cases and applications but the core features of these IoT platforms are almost same.
Amazon Web Services (AWS) IoT
AWS IoT is a PaaS service by Amazon Web Services for your IoT devices. AWS IoT has different modules like IoT Core, Device Management, IoT Analytics etc. AWS IoT makes it easy to integrate other AWS services like AWS Lambda, Amazon Kinesis, Amazon S3 and Amazon Machine Learnings with your IoT project. Key features of AWS IoT Core:-
 AWS IoT Device SDK
Device Gateway
Message Broker
Authentication and authorization
Device Shadow
Rule Engine
Google Cloud Platform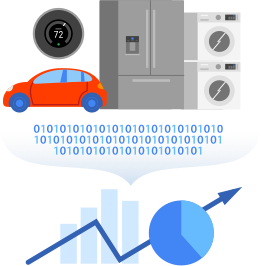 Google Cloud IoT is a set of fully managed and integrated services that allows you to securely connect you IoT devices, process and visualize data in real-time at a large scale. It provides integrated services like Cloud ML, BigQuery etc. which make it easy to take runtime decisions. Key features of Google Cloud IoT Core:-
End-to-end security (TLS 1.2; CA )
Single global system (MQTT, REST Protocol)
Integrated services
Advanced data analytics: Google BigQuery,  Cloud Data Studio
Business process optimization
Fully managed infrastructure
Microsoft Azure IoT Suite
Azure IoT Suite is a cloud IoT solution by Microsoft. Azure IoT Suite's functions are very similar to AWS and Google Cloud IoT. It works as a gateway to connect your device to other Azure IoT services. The cloud provider has partnered with multiple OPC companies to provide IoT solutions.
Microsoft IoT Central is a Software-as-a-Service (SaaS) solution that uses a model-based approach to enable you to build enterprise-grade IoT solutions without requiring cloud solution development expertise. Azure IoT Hub is the core PaaS that both Microsoft IoT Central and Azure IoT Suite use. It enables reliable and secure communications between your IoT devices and Azure cloud solution.
Azure IoT provides some preconfigured solutions of common IoT solution patterns that can be deployed very easily. These things will reduce your development cost and time.
ThingWorx IoT Platform
The ThingWorx platform is field-proven industrial IoT application system. It includes many technologies and tools that help enterprises to easily and quickly design and develop IoT apps.
Key features:
Build: Quick and easy creation of industrial IoT application.
Connect: Connect IoT devices to ThingWorx with REST API, AlwaysOn protocol, and 3rd party integrations.
Manage: Device management, remote access, software management, debugging.
Analyze: Visualize device data.
Watson Internet of Things
Watson Internet of Things Platform by IBM provides IoT solution with its built-in security, cognitive and industry expertise. IBM Watson offers Natural Language Processing, Machine Learning, and image and text analytics to enrich IoT apps. Watson IoT platform has following key features:
Connect: Connect your devices to Watson IoT and develop applications.
Information Management: Store device data, normalize transform and integrate Watson IoT with other services.
Analytics: Visualize real-time device data with dashboards.
Risk Management: Secure connectivity and architecture with user access control.
Artik by Samsung Electronics
The Samsung ARTIK Smart IoT platform combines hardware modules and cloud services together, with built-in security to provide an end-to-end solution. It provides flexible, pre-configured ARTIK modules.  ARTIK cloud services provide key IoT features like users, data and device management with tight security. ARTIK's scalable, enterprise-grade platform is kept up-to-date with the latest technologies, best practices, and connectors to popular devices and services. ARTIK Cloud Connectors enables you to connect the third-party cloud to ARTIK cloud services. ARTIK cloud services can then retrieve the device's data sent to that cloud. It brings the third party devices into your cloud so your devices can easily talk to each other.
Universal of Things (IoT) Platform by HPE
With the HPE Universal IoT Platform, you get an industry, vertical and client-agnostic solution that is scalable, modular and versatile. This enables you to manage your IoT solutions and deliver value by monetizing the vast amount of data generated by connected devices and making it available to enterprise-specific applications.
Application integration: Powerful API with the industry standard.
Application Suite: Easy application and service development.
Data acquisition & verification:  IoT App Data Store, security, rule engine, alerts and notifications.
Data Analytics: Robust predictive analytics module based on HPE Vertica and Smart Profiling Server as part of the core HPE UIoT Platform.
Mindsphere by Siemens
MindSphere is the cloud-based (PaaS or Cloud Service), open IoT operating system from Siemens that connects your products, plants, systems, and machines, enabling you to harness the wealth of data generated by the Internet of Things (IoT) with advanced analytics.
MindSphere delivers a wide range of device and enterprise application connectivity protocol options, industry applications, advanced analytics and an innovative development environment that utilizes both Siemens' open Platform-as-a-Service (PaaS) capabilities along with access to AWS cloud services.
Features
Secure connection of devices with software
Easy development, deployment and testing with preconfigured solutions
MindSphere Store to distribute and purchase applications
Broad spectrum of MindSphere APIs and analytics services
Data visualization and exploration
Automate insights from product performance data with Product Intelligence
Bosch IoT Suite
Bosch IoT Suite is a flexible IoT platform based on open standards and open source. Its cloud services meet the requirements typical of IoT projects. Software developers can quickly set up prototype applications before implementing them, deploying them within minutes, and operating them at high availability. The device management capabilities can be used stand-alone on-premise and as hosted service on the cloud. The Bosch IoT Suite is explicitly designed to support open, standards-based approaches to integrate with other domain-specific services.
[arve url="https://youtu.be/r1M4Hsxf2sA" /]
SwarmSense by BaseApp Systems
SwarmSense is a fully featured, self-hosted and white-label IoT Platform by BaseApp Systems. It is mainly designed for industries where a large number of devices has to be managed. SwarmSense is ready to use and you don't need to be a software developer to setup and use it. You can host it on your server or deploy it on a cloud service. SwarmSense is fully API based so you can easily integrate it with other services.
The key features of SwarmSense IoT Platform are following:-
Device and User management
Multi-level Access Control List (ACL)
A wide range of secure connectivity protocol support (HTTP/S, MQTT)
Data storage and security
Custom Dashboards with real-time data
Alerts/Notifications and Triggers
Easy development and deployment
Data Analytics
Scale-able Architecture
Although this is a basic overview of some of the top Internet of Things (IoT) platforms. Each IoT platform has its own use cases.